"Get ready to die..." ~Matlagma

I Wanna Be The Guy 2 is Matlagma's latest, and final series. It has 2 levels playable thus far, Chapter 1 - Act 1 and 2, and one bonus level. It was developed by Matlagma and published on the "Matlagma" planet and the description reads as follows: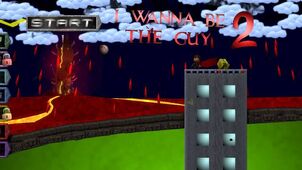 "Three years later after comatose from defeating The Father.. The Guy is finally woken up by The Bro during The Split War. A new evil takes over, ruling a nefarious wasteland called 'Perdition' and threatens The Village and its citizens. Now its up to The Guy and his allies to defeat the new evil and his squad 'THE NEW ORDER.'
BIG THANKS TO ~ Pawstuff = Major assistance / xXBloodVamprieXx = Making the best music / Zombiek6000 = Major testing / MatthewRPG = Story and assistance"
Trivia
I Wanna Be The Guy 2 is referred to as simply "Guy 2" by the development team.
I Wanna Be The Guy 2 is Matlagma's planned last series, but not level.
I Wanna Be The Guy 2 is developed by Matlagma, who is having to go through college as well as work on this level.
I Wanna Be The Guy 2 is Matlagma's final series, but MatthewRPG states that he will "keep I-Wanna alive," and plans to continue on Matlagma's mark on the LBP Community.
In I Wanna Be The Guy 2's Intro sequence, all of the development team can be seen building the word, "MATLAGMA."
Matlagma plans to make a QnA, and any questions asked here will most likely be in that QnA, so if you have any questions, leave it in the comments.
Community content is available under
CC-BY-SA
unless otherwise noted.